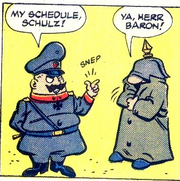 Baron Von Schtünk is the leader of
Not-so-nice-land
 who appears in one of the Rocky and Bullwinkle comic books.
History
He founded the nation after being banished to an Island for attempting World Domination. In the comics, he uses a robot moose to attempt to frame Bullwinkle for some robberies to keep them out of his way.
Appearance
He is a short, chubby figure with a thick, black, curled moustache. He dresses like a German Officer.
Trivia
His name is a play on either the word "Skunk" or "Stunk"
Ad blocker interference detected!
Wikia is a free-to-use site that makes money from advertising. We have a modified experience for viewers using ad blockers

Wikia is not accessible if you've made further modifications. Remove the custom ad blocker rule(s) and the page will load as expected.