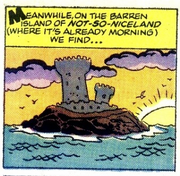 Not-so-nice-land in a location revealed in the Rocky and Bullwinkle comic books.
Similarly to Pottsylvania, the residents are unpleasant, and it seems to be a parody of Eastern Germany. Unlike Pottsylvania, it is a tiny island with only two confirmed citizens.
History
Their leader Baron Von Schtünk was banished to an Island for attempting to take over the world, and thus founded the country of Not-so-nice-land. He then continued his world domination schemes from the tiny country.
Trivia
The name is a pun of "Iceland"
Gallery