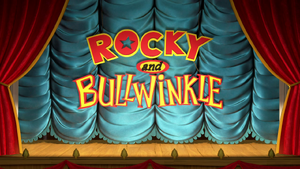 Rocky and Bullwinkle
is a  CGI animated short film on the Blu-ray 3D, Blu-ray and DVD release of
Mr. Peabody & Sherman
. This short was directed by Gary Trousdale.
Characters
Plot
Fearless Leader is tired of losing to Rocky and Bullwinkle, and so constructs a robot lady-moose for Boris to control in order to get close enough to kill Bullwinkle. However, while Bullwinkle falls for the ploy, Boris still runs into many troubles while trying to kill Bullwinkle.
Gallery
Videos
Note: The full version in high quality cannot be found on the web
Ad blocker interference detected!
Wikia is a free-to-use site that makes money from advertising. We have a modified experience for viewers using ad blockers

Wikia is not accessible if you've made further modifications. Remove the custom ad blocker rule(s) and the page will load as expected.